If it was ever in question before, the criticality of supply chain to business success has been brought to the forefront with COVID-19. The pandemic is being felt globally across operations and elevating supply chain discussions to the board level. While COVID-19 disruption has exposed significant gaps and risks for businesses, it also offers unprecedented opportunity for supply chain leaders to reimagine and redesign their supply chains by taking a proactive and systematic approach.
Join Kinaxis and guest speaker Ketan Shah, Partner at McKinsey for a discussion on building resilience, reducing risk and modifying supply chain structure and strategies to ensure success in a post-COVID world.
Speakers will explore:
End-to-end supply chain actions to consider in response to COVID-19

Supply chain vulnerabilities and how to build resiliency

How advanced companies are managing supply chain risk
When: Thursday, July 16, 10:00am ET | 2:00pm UTC
Submit the form below to register for this webinar:

We kindly request that you register using your business email address. The form below will not accept personal email addresses, including gmail, yahoo, etc.

Harish Iyer | Vice President, Industry Solutions | Kinaxis
Harish has been helping customers across the world drive supply chain and procurement transformation for more than 20 years. He is passionate about simplifying the complex, and identifying value propositions for customers that can be achieved using easy-to-use and understand solutions. As Vice President of Industry and Solutions Marketing at Kinaxis, Harish is responsible for defining, launching and evangelizing the company's solutions to target industries and geographies worldwide.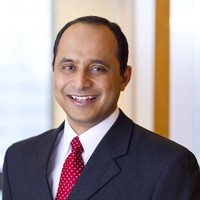 Ketan Shah | Partner | McKinsey
Ketan Shah is a Partner in McKinsey's Chicago office and a leader in the North America Manufacturing and Supply Chain practice. Ketan leads the Supply Chain Planning practice in North America. Since joining the Firm in 2003, Ketan has led many successful Supply Chain transformation projects across different industry sectors covering topics such as Operations and network strategy, Supply Chain diagnostics and design, Supply Chain planning and digital transformation, inventory reduction, service recovery, lean transformations in plants and warehouses, and SKU optimization. Ketan is also a global leader for McKinsey's alliances with external software vendors in the Supply Chain space.








Revolutionize your supply chain planning with Kinaxis RapidResponse®. Our concurrent planning capabilities connect your data, processes and people in a single platform across business functions.